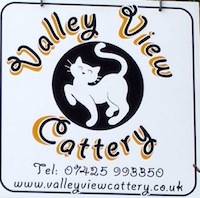 Welcome to the Valley View Cattery
Hazles Cross, Kingsley, Staffordshire, ST10 2EP


A SHORT DISTANCE BETWEEN CHEADLE & LEEK. WITH ASHBOURNE, STOKE -ON TRENT & UTTOXETER WITHIN EASY REACH


Valley View Cattery is a family run business providing luxury holiday accommodation for your cat. We have provided an ideal environment for your cat for us to look after him or her while you take your well earned holiday etc. Our facilities are purpose built and comply with the FAB Specification: The accommodation is thermostatically controlled and security is a primary concern with three doors always between our visitors and the outside world. Double glazed doors lead to individual play areas providing views over the Churnet Valley countryside with plenty of wildlife for our feline guests to watch from a safe distance!

It is not enough that we are real cat lovers ourselves, we take our responsibilities really seriously and hold the FAB cattery management accreditation. We know from our own experience how difficult it can be to find somewhere you are confident in leaving your pet with. As well as providing comfort and security for him or her, your peace of mind is really important to us too.

Call in and see, and we are sure you will be impressed.


OPENING TIMES

Please telephone for an appointment between 9am to 6pm

NOTE: SATURDAY, SUNDAY & BANK HOLIDAYS
9AM TO 11AM ONLY
Please Note bookings which include Bank Holidays are subject to a 5 day minimum charge.
All other dates are a 3 day minimum charge.

Bookings not cancelled with 14 days notice will be charged in full.

Please be aware that a non- refundable £20 deposit for each cat is required when making a booking. This will obviously be taken of the final bill at the end of their stay. Unfortunately, if the booking is cancelled, the deposit is forfeited. However, it can be transferred on one occasion, if an alternative confirmed booking date is made at the time of cancellation.
As you can imagine, this is a very difficult time for a small business and I thank you for your understanding.